Data Analysis and Report Production Technology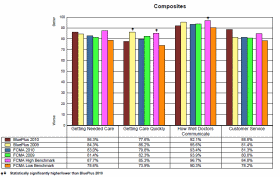 DataStat has extended our CATI and mail systems to include a central data repository that also streams data to our report production systems.
Report design, in close consultation with the project sponsor can create reporting in the form of datasets, banner books and tabular presentations, and heavily graphic-oriented reports.
Superior data management standards programmed as routines for consistent, accurate data presentation.
DataStat's report production engines can dynamically adjust scaling and position at the pixel level so that the presentation of hybrid pages of text and graphics are always solid.
DataStat's reporting system routinely produces large-scale production requirements: 60,000 pages of unique graphical reports in a one-week period.
Go Back [-]